The Ride
The 2024 Fall Challenge will be held Saturday, Sept. 14, 2024.
ROUTE MAPS
Our routes are similar from year-to-year, though we tweak them to avoid road construction or fresh chip-sealing to give you the best, smoothest ride we can.
2023 Route Maps
Peninsula Century 25 mile
Peninsula Century 50 mile
Peninsula Century 62 mile
Peninsula Century 100 Mile
View digital routes: RidewithGPS
25 Mile>>
50 Mile>>
62 Mile>>
100 Mile>>
Whether attempting the 100-mile, 62-mile, 50-mile or 25-mile routes, the Peninsula Century ride will be an incredible experience for riders of all abilities.
The 100-mile route contains 2,871 feet of elevation with multiple climbs. The 25-mile route takes riders on a flatter, easier route through the center of the peninsula, while the 62-mile and 50-mile routes offer something in-between.
Each route features rest stops stocked with snacks, fuel and, food to aid you during your ride. At each stop we make it a priority to include unique food items from local restaurants and businesses to give an authentic taste of the county during your ride.
The Peninsula Century begins with a suggested start at Sister Bay Waterfront Park at 7 a.m. and finish with a post-ride party featuring a gourmet taco bar from Thyme Catering, dessert of cherry crisp from Seaquist Orchards and One Barrel Brewing Co. beer beneath a tent at Waterfront Park.
With an array of lodging accommodations just a short walk from the festivities, you can ride to the start line at Waterfront Park, and walk to area shops, restaurants, and taverns after the ride.
Planned by avid cyclists who know Door County better than anyone else, the ride is capped at 1,000 riders to ensure the best experience possible.
Start Times
You are welcome to start at anytime, just pay attention to the aid station times, so you do not miss them! Those riding in the century and metric century should start their ride at the suggested time of 7 am. The 50-mile ride will start with at 8 am. They will be followed by the start of the 25 mile ride at 9 am.
100 Mile Ride – 7 am
Metric Century Ride – 7 am
50 Mile Ride – 8 am
25 Mile Ride – 9 am
We strongly advise that all riders start as close to the posted times as possible to ensure access to all aid stations, food, and perks of the event, especially riders who expect to average less than 14 miles per hour for the ride.
Be advised, there are several significant hills on the longer routes. No, it's not like riding in the mountains, but it's not flat either.
Rest Stops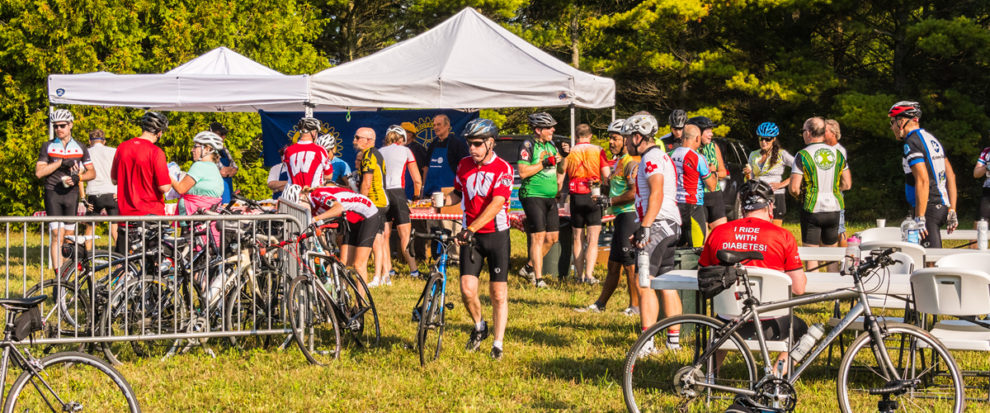 Rest stops will be found on all of the routes for riders to stop and fuel up on food and beverages. Each rest stop is staffed by a Door County non-profit who will be receiving a donation from the ride. Please thank them for their help with the ride and their contributions to community organizations!
Keep an eye out for updates to food items as the event gets closer!
Start- Waterfront Park: Coffee by Sip
Clark Park
Staffed by:  Climate Change Coalition of Door County
Clark Park, Fish Creek, (Mile 16 of the 50, 62, and 100-mile routes) – Open 7:30am – 9:30 am
Serving: Water, Gatorade, bananas, oranges, & bagels.
Featured Item: Apple Cider donuts from Wood Orchard coffee from D.C. Chocolate Design and peeled hard-boiled eggs.
Murphy Park
Staffed by: Egg Harbor Historical Society
Egg harbor, (Mile 29 of century route),
Open 8:10 am – 10:30 am
Serving: water, Gatorade, bagels, bananas, oranges, donut holes.
Featured Item: Kick Ash granola
Lakeside Park
Staffed by:  Sevastopol Girls Basketball
Sturgeon Bay, (mile 46 of the century route), Open 8:50 am – 12:00 pm
Serving: Water, Gatorade, bananas, oranges, and peanut butter pretzels. 
Featured item: Roasted potatoes from Al Johnson's.
Polka Party 
Staffed by:  Rotary Club Door County North
Baileys Harbor, Corner of West Meadow and Ahrens Road, (mile 64.1 century, 34 Metric Century and 50-mile route, mile 12 of the 25-mile route),
Open 8:30 am – 1:30 pm
Serving:  Water, Gatorade, bananas, oranges.
Featured Item: Turkey and veggie subs, chips, and cookies from Piggly Wiggly.
Wickman House
Staffed by: The Ridges Sanctuary/ Shepherd of the Bay 
Ellison Bay, (mile 81 and 93 for Century, mile 51 Metric)
Open 8:30 am – 3:10 pm
Serving:  Water, Gatorade, bananas, oranges, peanut butter pretzels, granola bars, GU
Featured item: Kick Ash mix.
Post-ride Meal
After your ride, we'll be serving a post-ride meal from Thyme Catering featuring a taco bar with pork, chicken, and veggie tacos, rice and beans, and a desert of cherry crisp from Seaquist Orchards. The meal will be served from 11-5pm.
You'll also get one free beer from One Barrel Brewing Co.
Sag Wagon
It is recommended to ride with a cell phone along the route, in case of emergency or the need for assistance from the Sag Wagon; however, your cell phone may not work at all locations along the route.
A mechanic will also be stationed at the starting line until at least 9:30 am.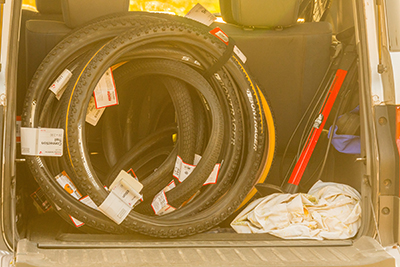 Weather
Temperatures in mid-September average in the high 50s; however, it is cooler by the lake. Once again, we've added a gear check at Murphy Park, at mile 29 of the century route, so you can stay warm in the morning and shed layers as the day warms up. Gear will be brought to the merchandise table at the concourse for riders to pick up until 5pm.
Packet Pickup
Riders may pick up packets and maps at Waterfront Park in Sister Bay. Hours are 4 – 7 pm on Friday, September 13 and 6 – 9 am on Ride Day Saturday, September 14.
Waterfront Park is located at 648 North Bayshore Drive just west of the corner of Bay Shore Drive (Hwy 42) and Mill Road in the center of Sister Bay.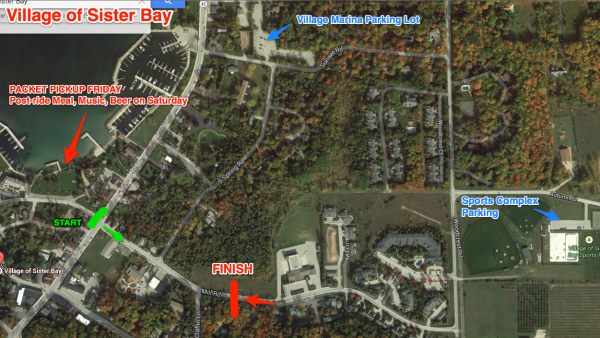 Biker Safety
While all four courses have been designed to avoid high traffic areas, the routes will not be closed to traffic. All bikers should follow the rules of the road, including stopping at stop signs and riding single file on the right side of the road. It is recommended to wear a helmet when bicycling.
All routes will follow regular state, county and local roadways and are used by automobiles, trucks, buses, bicycles, motorcycles and farm machinery; they have no special provisions for bicyclists. Bicyclists participating in the Peninsula Century, using the map and the marked route, assume the responsibilities and risks for their own safety when cycling.
The bicycle is classified as a vehicle under Wisconsin state law (WI Statute 346.02 (4)) and has the same Rights AND RESPONSIBILITIES as motor vehicles, including the right to use public roads unless specifically prohibited. The safety of bicycling depends on the conscientious efforts of bicyclists and motorists to obey traffic laws and act with mutual consideration when sharing the roadway.
Parking Info
Participants staying in Sister Bay will have the convenience of riding their bikes to Waterfront Park for packet pickup and the start of the ride at Waterfront Park Saturday morning. Others are encouraged to park in the Marina overflow parking lot or at the Sister Bay Sports Complex, both of which are just a short ride from the starting line.