The 2017 Peninsula Century Fall Challenge takes place Saturday, Sept. 16, 2017 at Sister Bay's Waterfront Park. Registration opens March 1st.
The Ride
2016 Course Maps
Century Route (same as 2015):  View on MapMyRide
Metric Century (62-mile):  View on MapMyRide
50-mile:  View on MapMyRide
25-mile:  View on MapMyRide
Whether attempting the 100-mile, 62-mile, 50-mile or 25-mile routes, the Peninsula Century ride will be an incredible experience for riders of all abilities.
The 100-mile route contains 3,354 feet of elevation with multiple climbs. Participants in the 100-mile route may also participate in the King of the Hill Challenge>>. The 25-mile route takes riders on a flatter, easier route through the center of the peninsula.
Planned by avid cyclists who know Door County better than anyone else, the ride is capped at 1,200 riders to ensure the best experience possible.
The Peninsula Century begins with a rollout start at Sister Bay Waterfront Park at 7 a.m. and finish with a post-ride party featuring an amazing buffet of local food and Door County Brewing Co. beer  and music beneath a tent at Waterfront Park.
With an array of lodging accommodations just a short walk from the festivities, participants can ride to the start line at Waterfront Park, and walk to area shops, restaurants, and taverns after the ride.
Start Times
There will be two roll out times for the rides. Those riding in the century, metric century, and 50-mile ride will start their ride with a rollout at waterfront park at 7 am. They will be followed by the start of the 25 mile ride at 9 am.
100 Mile Ride – 7 am
Metric Century Ride – 7 am
50 Mile Ride – 7 am
25 Mile Ride – 9 am
We have extended the aid station windows and the post-ride meal this year to accommodate all riders, but we strongly advise that all riders start as close to the posted times as possible to ensure access to all aid stations, food, and perks of the event, especially riders who expect to average less than 14 miles per hour for the ride.
Be advised, there are several significant hills on the longer routes. No, it's not like riding in the mountains, but it's not flat either.
Rest Stops
Rest stops will be found on all of the routes for riders to stop and fuel up on food and beverages.  Each rest stop is staffed by a Door County non-profit who will be receiving a donation from the ride. Please thank them for their help with the ride and their contributions to community organizations!
Clark Park
Staffed by:  Friends of Peninsula State Park
Clark Park, Fish Creek, (Mile 16 of the 50, 62, and 100-mile routes) – Open 7:30am – 9:30 am
Serving: Water, gatorade, bananas, oranges, donut holes & bagels, and coffee and peeled hard-boiled eggs
Murphy Park
Staffed by:  Egg Harbor Historical Society
Egg harbor, (Mile 29 of century route),
Open 8:10 am – 10:30 am
Serving: water, gatorade, bananas, oranges, cookies, trail mix, peanut butter pretzels
Cave Point County Park
Staffed by:  Sevastopol Music Arts & Theater Guild
Sturgeon Bay, (mile 46 of the century route), Open 8:50 am – 12:00 pm
Serving: Water, gatorade, chopped melon, peanut butter pretzels
Polka Party 
Staffed by:  Rotary Club Door County North
Baileys Harbor, Corner of West Meadow and Ahrens Road, (mile 64.1 century, 34 Metric Century and 50-mile route, mile 12 of the 25-mile route),
Open 8:30 am – 1:30 pm
Serving:  Water, gatorade, bananas, oranges, subs (turkey & veggie option with cheese), cookies, peanut butter pretzels.
Wickman House:  Viking Pep Rally 
Staffed by:  Friends Of Gibraltar
Ellison Bay, (mile 81 Century, mile 51 Metric)
Open 8:30 am – 3:10 pm
Serving:  Wickman House seasoned roasted local potatoes (Sully's Produce), Water, gatorade, bananas, oranges, cookies, granola bars, GU
Baptist Church:  Tiki Party
Staffed by:  Shepherd of the Bay
Ellison Bay (mile 90 century route)
Open 10:30 am – 4 pm
Serving:  Tapuat Kombucha Mocktails, Water, gatorade, pineapple chunks, cookies, granola bars, GU
Support Services and Sag Wagon
Experienced mechanics will be stationed at each rest stop along the route. It is recommended to ride with a cell phone along the route, in case of emergency or the need for mechanical assistance from the Sag Wagon; however, your cell phone may not work at all locations along the route.
Weather
Temperatures in mid-September average in the high 50s; however, it is cooler by the lake.
Packet Pickup
Riders may pick up packets and maps at Waterfront Park in Sister Bay. Hours are 4 – 7 pm on Friday, September 15 and 6 – 9 am on Ride Day Saturday, Sept. 16.
Waterfront Park is located at 648 North Bayshore Drive just west of the corner of Bay Shore Drive (Hwy 42) and Mill Road in the center of Sister Bay.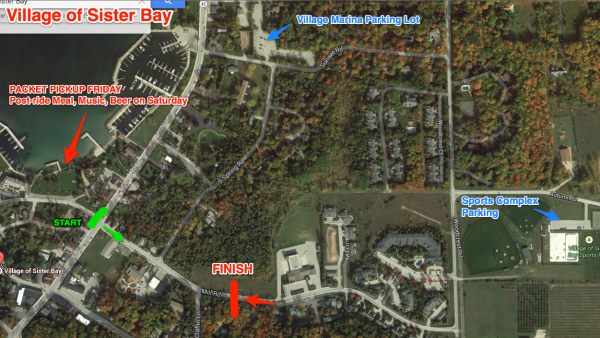 Post Ride Meal and Goodies
Each rider will receive a ticket for a free beverage and post-ride meal.
The post-ride meal, which many riders called the best post-ride meal they've ever had, will be served from 11 am – 5 pm and will include food from some of Sister Bay's finest restaurants. The 2016 meal included:
Biker Safety
While all four courses have been designed to avoid high traffic areas, the routes will not be closed to traffic. All bikers should follow the rules of the road, including stopping at stop signs and riding single file on the right side of the road. It is recommended to wear a helmet when bicycling.
All routes will follow regular state, county and local roadways and are used by automobiles, trucks, buses, bicycles, motorcycles and farm machinery; they have no special provisions for bicyclists. Bicyclists participating in the Peninsula Century, using the map and the marked route, assume the responsibilities and risks for their own safety when cycling.
The bicycle is classified as a vehicle under Wisconsin state law (WI Statute 346.02 (4)) and has the same Rights AND RESPONSIBILITIES as motor vehicles, including the right to use public roads unless specifically prohibited. The safety of bicycling depends on the conscientious efforts of bicyclists and motorists to obey traffic laws and act with mutual consideration when sharing the roadway.
Parking Info
Participants staying in Sister Bay will have the convenience of riding their bikes to Waterfront Park for packet pickup and the start of the ride at Waterfront Park Saturday morning. Others are encouraged to park in the Marina overflow parking lot or at the Sister Bay Sports Complex, both of which are just a short ride from the starting line.